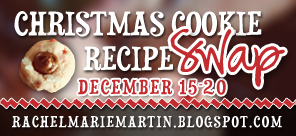 I decided to try two new recipes to me. EASY recipes. Easy Shortbread Cookies, I found this recipe over at Clover Lane and thought I need to do this with the kids. The other is Noel Nut Balls, I found this one in my Good Housekeeping magazine and when reading the recipe it brought back memories from childhood....my Grandmother use to make them. I never made them before but easy peasy they were. I like easy when life is busy. This allows me and the kids to create and have fun together but not take too much time. Both these recipes need to be chilled first which made things run smoothly. I was able to have the kitchen cleaned up before the fun part started.
1 cup butter, softened
3/4 cup powdered sugar
2 tsp. vanilla extract
2 cups flour
1/4 tsp. baking powder
1/8 tsp. salt
red and green sprinkles

Cream together butter, sugar and vanilla.
Add in flour, baking powder and salt.
Mix together and divide into 3 equal portions
Make 3 Rolls with the dough and fridge for a few hours.
After dough has chilled cut rolls into slices.
Add sprinkles by dabbing one side of the uncooked cookie into the sprinkles.
Bake for 8 to 10 minutes, cookie will look a little undone.
This made 3 dozen pretty yummy cookies.
Noel Nut Ball
1 cup (2 sticks) unsalted butter, room temperature
2 tablespoons honey

1 teaspoon bourbon or orange juice

2 1/4 cups sifted all-purpose flour

3/4 cup chopped pecans (best if chopped by hand)

1/2 cup sifted confectioners' sugar, plus more for rolling

1/4 teaspoon salt
Cream butter and honey until fluffy. Add bourbon orange juice and beat to combine. In a medium bowl, whisk together flour, pecans, confectioners' sugar, and salt. Add to the butter mixture, and beat to combine. Wrap in plastic wrap, and refrigerate for a few hours.
Bake at 350 . Line baking sheets with parchment paper. Roll the dough, 2 teaspoons at a time, into balls. Place on prepared baking sheets, leaving 2 inches between them. Bake until brown around the edges, 12 to 13 minutes. Transfer to wire racks to cool completely. Roll in confectioners' sugar to coat.
Our little Miss Audrey made a plate of cookies for her Daddy. He's been working evenings this week and she thought it would be nice to leave a plate of cookies out for him to munch on when he gets home. She's so sweet.
I plan to make some more cookies in a few days that involve Chocolate.
Bonnie