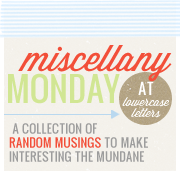 1. on Sunday my miss audrey and I walked the

great strides

walk for

cystic fibrosis

.
The walk was for this guy……
my nephew
jackson and to support others with CF
.
2. my life seems to have been taken over by all things baseball......baseball games, baseball talk, baseball cards, baseball books, baseball gloves, baseball bats, baseball caps..........and so on!
my ethan is all baseball!
3. i often wonder why the weather doesn't seem to bother kids like it does adults. the sky has been gray for 8 days and it's really starting to make me grumpy.....i need to see blue and brightness....i need my vitamin D!!!!
it's a new england thing
.
i attempted to make them last week...not bad but it's definitely one of those desserts that you have to make a ton of times before you get it just right.
5. i can't wait for my late birthday present to come in the mail this week, it was shipped on friday and i'm super excited.....it's a necklace by
lisa leonard
. i'm not one to wear jewelry but this necklace is one that i've been eying for sometime now. i will share it with you when i get it.
have a wonderful monday and i hope the sun is shining where you are!
Bonnie